A long history of innovation
Taiwan is a a small but beautiful island that's most well known for introducing Boba milk tea to the world. Little do people know, it has also been innovating for the garment and textile world for decades. For over 40 years, Taiwanese fabric inventions have pioneered specialty applications for outdoor, sportswear, and functional apparel used by brands like Nike and Under Armour. T-Shirts that dissipate heat during hot summers? Taiwan. Recycled fabrics? Taiwan. It's no wonder Taiwan has been referred to as the Silicon Valley of textiles by the garment industry.

Yet for almost as long, Taiwan has also been a world leader in manufacturing personal protection equipment. It is one of the few countries in the world where PPE production is vertically integrated - meaning every part of the product can be manufactured locally. This stable supply chain not only allows innovation to flourish but also sets a high bar for producing high quality products at affordable prices.
The brands
In 2020, the Taiwanese government formed a collaboration with its largest face mask manufacturers in order to combat PPE shortage. The group is often referred to as the "National Face Mask Team." Besides ensuring the nation of 23 million citizens would never run out, these factories would also take part in humanitarian efforts via donations to other countries. In some ways, Taiwan's reputation for authentic, high quality products rested on the shoulders of these companies as Taiwan gave tens of millions of masks to the United States, Canada, and myriad European countries.

Taiwan Masks is extremely proud to represent two of the largest and most well known brands on the Team as its North American partners, and be able to offer their products during a time of need.
Taiwan Comfort Champ - 台灣康匠

Perhaps the largest face mask manufacturer, Taiwan Comfort Champ has a daily production capacity of 2 to 3 million masks, and it's still growing. TCC operates under the UNeed, Champ Mask, and Everyday brands and is one of the few Taiwanese companies that is FDA approved for both its 3 ply and 3D folding face masks. All of the materials in a TCC mask meet or exceed 99% PFE/BFE/VFE specifications. Taiwan Comfort Champ is also one of Taiwan's largest OEM factories, making masks for consumers brands like Peppa Pig and 7-Eleven.

Taiwan Masks is proud to be an official distributor of Taiwan Comfort Champ in North America, offering its full line of UNeed products. Its 3D Masks are a new and exciting product to make its debut in the North American market, where customers have traditionally used cloth or 3 ply style masks. The 3D masks focus on breathability, easy of wear, and utilizes an ultra elastic ear loop designed for prolonged wear. All TCC mask styles come in 7 beautiful colors and in both adult and kids sizes, making it the perfect choice for a cost friendly, everyday option.
Sizes
Adults, Kids (5 to 8 year olds), Small Kids (3 to 6 year olds)
Styles
3 ply, pleated style face masks

3 ply, 3D, contoured face masks
Colors
Sky Blue

Sakura Pink

Summer Lavender

Tiffany Green

Butter Yellow

Polar White

Jet Black
All TCC mask styles come in 7 beautiful pastel colors, are available in adult and kids sizes, and is the perfect product for a cost friendly, everyday option.
CSD 中衛

The Louis Vuitton of the face mask world has actually been a medical device manufacturer for over 70 years. Its lineup of colorful and designer focused face masks make it the quintessential item for all fashionistas. Its face masks have been featured at world-stage fashion venues such as Berlin Fashion Week and New York Fashion Week. CSD is truly the brand to watch as face masks become a fashion accessory in the new norm.

CSD at Berlin Fashion Week. Credit CSD.
Despite making a name for themselves in couture, CSD still considers themselves as a medical device company, and is unsurprising that all of their designers face masks still achieve a BFE/PFE/VFE rating of over 95%, as tested by Nelson Labs. With its high level of quality, unique brand position, and combination of fashion and PPE, it's no wonder that these masks have become some of the most sought after products in Asia.

Taiwan Masks offers the full range of CSD products from its high fashion face masks to surgical masks for healthcare professionals. Also be on the lookout for limited edition designs and collaborations with top fashion brands in the near future!

Sizes
Styles
3 ply, pleated style face masks
Colors
Over 20 different colors, patterns, prints, and designs
Carnation from KNH Taiwan - 康那香

Another major player in the Taiwanese National Team, KNH has a unique place in the market with its patented Z-fold masks and ultra comfortable ear loops. Many customers swear by these products which has made KNH a household name in Taiwan. It's also one of the few factories that produces FDA registered and approved products.

AeroPro - 舜堡

A lesser known brand, but a huge name in the OEM market producing NIOSH approved N95 products for 3M. AeroPro focuses on true medical and healthcare/surgical face mask products.

Related Posts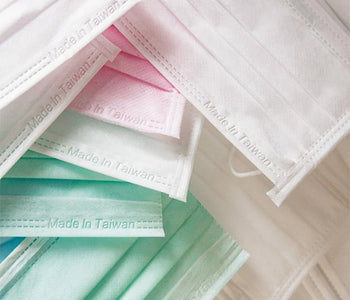 It's time for a quick introduction to all the popular Taiwanese face masks brands and what makes them so unique!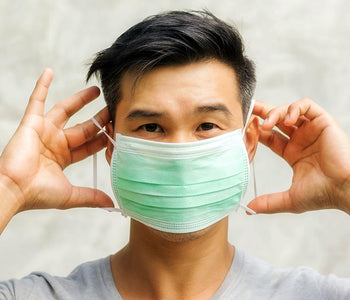 How do you remove a face mask without touching the potentially infected surface? Check out these tips from doctors and long time users. Putting on the face mask: First you'll...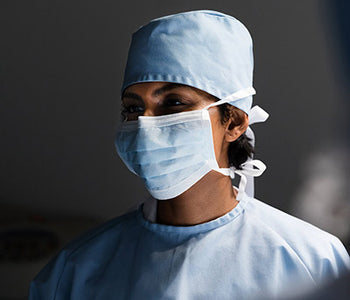 We recently received a lot of questions on what disposable masks are versus medical, surgical, or procedure. Specifically, customers want to know which category Taiwan Masks products fall into. In short, all...